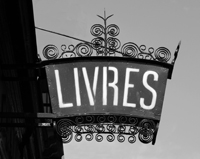 Un spécimen de caractères inconnu de Fournier le jeune - 1759
Paris, Librairie Paul Jammes, Editions des Cendres, 2013.



Pierre-Simon Fournier started punch-cutting in 1736. After years of hard work, he published in 1742 his Modèles des caractères de l'imprimerie showcasing about 4600 newly invented letters or signs. A cultivated man, he participated in the writing of the Encyclopédie and Diderot held him in high regard. His most famous work is the Manuel typographique published in 1764-1766, in itself a typographical gem. Fournier is one of the great architects of the Book, on the same footing as Alde, Estienne, Baskerville or William Morris.

The facsimile in question of the Epreuve de quelques caractères has been rendered in colors with the utmost care by the Editions des Cendres based on a unique exemplar recently found.


Postface by André Jammes. [In french]
In-4°, broché, couverture rempliée. 68 pages.
Tirage à 199 exemplaires. 40 €




---

André Jammes
Papiers dominotés. Trait d'union entre l'imagerie populaire et les papiers peints (France 1750 -1820)
Paris, Editions des Cendres, 2010

A work devoted to the papers used in the 18th century to cover books before they went through the binding process. These ephemeral items, now extreme rarities, testify to an evident taste for the decorative. This subject, which no other monograph to date has addressed, constitutes an initial inventory containing reproductions of some 300 papers of remarkable quality.
It was awarded the 2011 Book Prize of the SNA, the French national federation of antique dealers.

564 p. (25 x 25 cm) ; out of print.

---

Collection de spécimens de caractères 1517-2004. Paris, Librairie Paul Jammes et Editions des Cendres, 2006.

This catalogue describes 277 specimens of French and foreign typefaces from the 16th century to our own time. The most famous designers are represented here: Arrighi, Garamont, Jannon, Fournier, Caslon, Bodoni, Gillé, Grasset, Peignot, Cassandre, Mardersteig, Zapf, Frutiger, and others.
Introduction by Isabelle and André Jammes; English-language translation by Sandra Hindman.

" The largest and most generous work ever devoted to type-specimens…" (The Book Collector)

Un volume petit in-folio (25 x 33 cm) de 400 pages, 423 illustrations en couleurs. Relié, jaquette illustrée.
210 €.
Ces ouvrages sont en vente à la Librairie